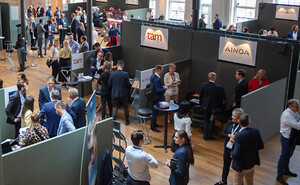 "CRMP is an ideal event to network with the retail and shopping center industry. I had the opportunity to promote our brand, Giordano, on the Soapbox stage (at the event) and was very impressed with the turnout. The event was well organized and offered a platform for me to connect, learn, share and promote our brand to the Scandinavian market." - Giordano, Hong Kong-based fashion retailer looking to expand into the Nordics
Completely Retail Marketplace Nordics annually welcomes retailers from far and wide to Stockholm, where they can benefit from exposure to leading property companies and the latest shops, popups and retail spaces available in the region.
Organizers Completely Events will continue the event's longstanding partnership with leading industry organizations the NCSC, Citycon, the Department for International Trade, Stockholm Fashion District and Trade Partners Sweden. Representatives from each partnering company will be on hand at the event to offer advice to retailers either looking to enter the Nordics market or expand out of this region into the UK.
Completely Events are also delighted to ignite new partnerships for the 2020 event with leading Nordic retail organizations Franchise Group, Popup Agency and Business Sweden.
Not only does Completely Retail Marketplace Nordics accelerate the property acquisition process, it's also free* to attend to retailers which means minimal cost and an incredibly high ROI for one day out of the office. Retailers attending from outside Sweden and looking to expand within the Nordic market will also have their travel costs reimbursed* if they attend. Property professionals pay just one flat rate to attend and that's it - all food and refreshments for the day are included in the entry ticket**.
Just some of the brands that have attended Completely Retail Marketplace Nordics in the past include Tortilla, We Are Group, Orange County Foods, Calzedonia, Espresso House, Lindex, Elkjøp Nordic, Dashl, Coop Stores, Pharmacy, O'Learys and H&M. Previous attendees from the property industry have included leading companies Unibail-Rodamco-Westfield, Thon Property, Ingka Centers, AMF Real Estate, Sponda, Atrium Ljungberg and Citycon.
A feature of Completely Retail Marketplace Nordics that has proved a highlight year on year is the Soapbox stage. This sees young and emerging retail brands take to the stage in front of the event's property delegation. The retailers then have a few minutes to put the spotlight on what they are about and what sort of retail space they are after. Many brands have reaped the benefits of the Soapbox stage and been offered sites and opportunities as a result of their pitches, including beauty brand Dashl, F&B concept Beijing 8, Fogarolli Coffee Bars and Italian fashion brand Calzedonia.
It wouldn't be Completely Retail Marketplace without Soapbox, so of course the sessions will be a returning feature at the 2020 Completely Retail Marketplace Nordics event in Stockholm. You can guarantee it will be a roster of exciting and fresh concepts looking to shake up the market! If you're a new and emerging brand, why not register your interest in a free slot to pitch on stage?
To find out more about attending, exhibiting and sponsoring at Completely Retail Marketplace Nordics in June 2020, please contact Shelley Batey for more details at sb@completelygroup.com or by calling +44 (0) 1483 238 686. For all press and marketing inquiries please contact Charlotte Smith at cs@completelyevents.com.
For more event information visit crmarketplace.com.
*The event works best for everyone when we all know exactly who is coming so please ask brands to only register for a free pass if they are definitely going to attend, and to let us know in advance if they will not be able to make it. T&Cs apply to flight contributions. **Earlybird price expires 3rd March 2020.