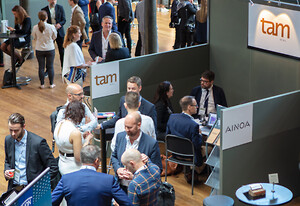 The Nordic region's leading retail and property networking event, Completely Retail Marketplace Nordics, has announced new partnerships for 2020 with retail organisations Pop Up Agency and Franchise Group.

Organisers Completely Events are delighted that Pop Up Agency will be sponsoring the event's Soapbox stage, where emerging retailers can find new properties. Pop Up Agency are a dynamic and innovative retail space agent who connect brands to relevant short term leases, making them the perfect partner for Soapbox.
Due to be held on 3rd June at Münchenbryggeriet in Stockholm, Completely Retail Marketplace Nordics has also confirmed its continuing association with the Nordic Council of Shopping Centers (NCSC) in 2020, plus Citycon as a headline sponsor for the event.

The NCSC are a body that represent the Nordic market's shopping center industry. Their varied, 1,200 strong membership comprises real estate companies, investors, center managers, retailers, service industries, trade associations, city planners, as well as government and municipal authorities. Citycon own 38 shopping centers in the region and are one of the leading operators of Nordic and Baltic shopping centers, serving over 170 million visitors annually.

Citycon and the NCSC will both be positioned in branded meeting spaces at Completely Retail Marketplace Nordics, ready to meet with retail delegates looking to secure a new site for their brand in one of the major shopping destinations.

The event will also be continuing its ongoing partnerships with REP Europe Real Estate, We Are Pop Up, the Department for International Trade, Stockholm Fashion District, Trade Partners Sweden, Svensk Franchise and Business Sweden. Plus, media partnerships with leading European publications, Retail Watch and Infabode.

Completely Retail Marketplace Nordics annually welcomes retailers from far and wide to Stockholm, where they can benefit from exposure to leading property companies and the latest shops, popups and retail spaces available in the region.

Not only does Completely Retail Marketplace Nordics accelerate the property acquisition process, it's also free* to attend to retailers which means minimal cost and an incredibly high ROI for one day out of the office. Retailers attending from outside Sweden and looking to expand within the Nordic market will also have their travel costs reimbursed* if they attend. Property professionals pay just one flat rate to attend and that's it - all food and refreshments for the day are included in the entry ticket**.

To find out more about attending, exhibiting and sponsoring at Completely Retail Marketplace Nordics in June 2020, please contact Shelley Batey for more details at sb@completelygroup.com or by calling +44 (0) 1483 238 686. For all press and marketing inquiries please contact Charlotte Smith at cs@completelyevents.com.

For more event information visit the Completely Retail Marketplace Nordics website.

*The event works best for everyone when we all know exactly who is coming so please ask brands to only register for a free pass if they are definitely going to attend, and to let us know in advance if they will not be able to make it. T&Cs apply to flight contributions. **Earlybird price expires 3rd March 2020.