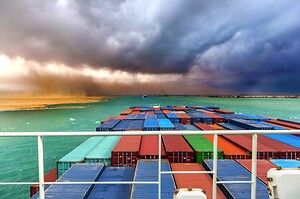 120 miles long, the Suez Canal sees nearly 50 ships passing through on an average every day and almost 19,000 annually and accounts for roughly 12% of world trade. During the pandemic, this traffic remained steady until today. A ship, 200 feet wide and 1,300 feet long, nearly taking up the width of the channel, ran aground.
With congested ports across the globe, these delays will rattle the supply chain from ports to docks to distribution centers. Logistics experts are already predicting impacts to goods everywhere and analysts are already predicting potential disruptions to almost $40 billion dollars' worth of trade.
In a time of massive shortages, the impacts of one the world's busiest waterways logjammed will cascade across all industries. Right now, Blue Yonder's LuminateTM Control Tower is helping our customers track at least 20 vessels along this route and helping them gain early visibility into potential disruptions by predicting the time of arrival at the port of discharge through final delivery.
<<Read more>>