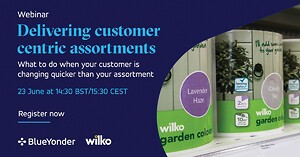 Live Webinar | Wednesday, 23 June, 2021
14:30 BST/15:30 CEST
Whether due to the impact of COVID, online or societal and environmental changes, it is an on-going challenge to optimise your assortment for each location, aligned to your shoppers' needs.
Hear how wilko, a leading UK Homes & Garden retailer, with over 400 stores have achieved this, ensuring they deliver the right assortment aligned to shopping behaviour and how they are continually adapting to customer change.
Why attend:
Hear about the latest innovations in Assortment Optimisation
Understand how to respond quickly to new customer insights, leveraging loyalty data and analytics
How to easily expand your category management capabilities to create optimised space-aware assortment.
Join us on Wednesday, 23 June, 2021 at 14:30 BST/15:30 CEST