Innehållet nedan modereras inte i förväg och omfattas därmed inte av webbplatsens utgivningsbevis.
Balers
Tillbaka till företagsprofilen.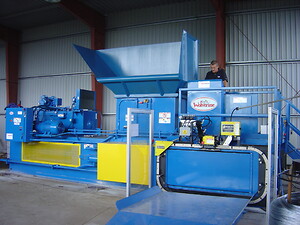 The purpose with baling is to reduce freight costs or to increase the space needed when materials/waste is stored on e.g. landfills.

If the waste is used for burning the baling process combined with a wrapping process will prevent the waste from self ignition when stored.

Wamatech supplies different kinds of balers:

2-Ram Balers:
Can be used for baling almost everything e.g. wood, paper, OCC, waste, tires, cables, PET, hard plastic, foil, cans, non-ferrous, bib-bags etc.

Channel Balers:
Is usually used for PET, paper, OCC, foil, big-bags and other "light" materials. Some can be used for MSW.

Trans-Pak:
Is mainly used for baling waste, wood and white gods directly into a trailer. The Trans-Pak is used for big capacities.

Vertical Balers:
Suitable for OCC, paper, foil, PET and Aluminium cans. The vertical balers are manual operated and suitable for small capacities. They are very often installed in warehouses etc.

Wamatechs has
solutions for handling your waste
.
Fakta om Wamatech A/S
Adress
Wamatech A/S
Grønvej 80
5260 Odense S
Region
Danmark
Syddanmark
Odense Kommune
Telefon: +45 70269002
VAT nummer: DK20843837
P nummer: 1004540009
Kontaktpersoner
Lars Bo Andersen
Yrke:

Sales Manager


Telefon:

+45 +4553832965




Wamatech A/S
Telefon:

+45 70269002