Innehållet nedan modereras inte i förväg och omfattas därmed inte av webbplatsens utgivningsbevis.
Øvre Sund Broen - Norge
Tillbaka till företagsprofilen.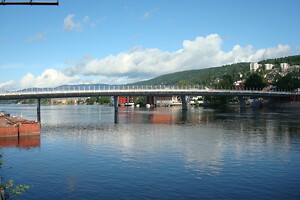 Project description
Bladt Industries' scope of work for the Øvre Sund gangway and bicycle bridge was fabrication, delivery and installation of the in total 172 tons steel construction. The bridge has a total length of 147 metres.
The project progressed according to plan without any delays and was installed and ready for use within the scheduled time frame. Cooperation with the client and subcontractor has been strong.
FACTS
Gangway and bicycle bridge
172 tons of steel
147 metres long
Installation in Norway
Client
Statens Vegvesen

Contract type
General contract

Time frame
2010-2011

Location
Drammen, Norway
Fakta om Bladt Industries A/S
Adress
Bladt Industries A/S
Nørredybet 1
9220 Aalborg Øst
Region
Danmark
Nordjylland
Aalborg Kommune
Telefon: +45 96353700
VAT nummer: DK14818480
P nummer: 1000811216
Anställda: 600
Certifikat: Achilles, DS/EN ISO 3834-2, EN 1090-1, ISO 9001, ISO 9001:2015, OHSAS 18001, Sellihca
Kontaktpersoner
Helle Krushave Honoré


Tenna Hørby
Avdelning: Marknad
Yrke:

Marknadschef


Telefon:

+45 21714326